With our in-house engineering staff and relationships with specialty consultants, Beaty Construction can quickly analyze all earth retention situations to provide a cost-effective engineered design for any application. Beaty specializes in both temporary and permanent earth retention.
Soldier Pile and Lagging Retention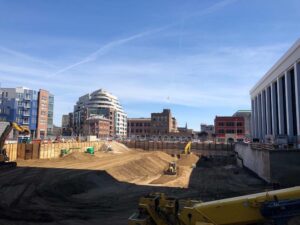 Soldier pile walls are among the most cost-effective retention approaches for projects requiring less than about 15 vertical feet of retention in dewatered or dry soil conditions. They consist of steel H piles usually driven or drilled into the soil with wood lagging attached to the face of the piles.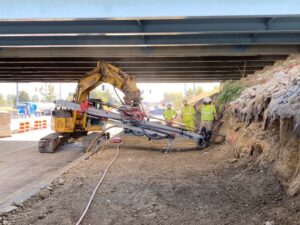 Soil nails are drilled and grouted steel elements that are installed to reinforce existing soil as it is excavated in lifts.  Soil nail spacing is controlled by the allowable depth of each lift, which is driven by soil conditions.  After soil nails are installed at each lift a drainage system and reinforced shotcrete facing are installed over the nails.  This process continues until the desired excavation depth is achieved.
Sheet Piling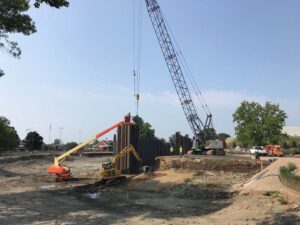 Sheet pile walls are typically used to retain soft, loose or wet soils (or even water) or where there is a need to control water inflow into the excavation.
Tieback Retention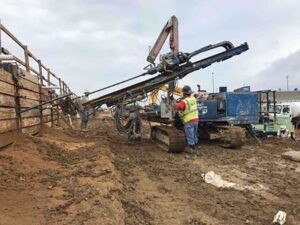 If the depth of excavation near the retention is anticipated to exceed about 15 vertical feet, it is usually cost-effective to use ground anchors or structural bracing to minimize the required strength (and cost) of the piling elements used in the retention design.  Tiebacks can be installed to add additional capacity to a variety of earth retention systems, instead of a cantilevered wall.  Tiebacks are drilled horizontally at an angle and consist of a grouted steel element that is stressed and locked-off at design load.
Tangent Pile Retention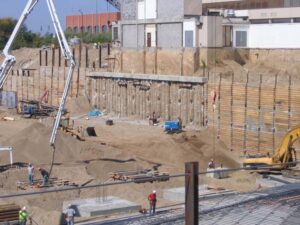 Tangent pile walls are comprised of drilled-in concrete piles – often installed using the augured cast-in-place method – that are located within very close proximity to each other. These piles may be reinforced with structural steel or reinforcement cages. This retention type may be used when a relatively thin wall is desired with superior strength from the composite nature of the piles.
Underpinning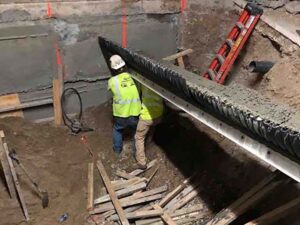 Beaty Construction offers underpinning services that include traditional "pit" underpinning as well as solutions involving earth retaining or deep foundations techniques.